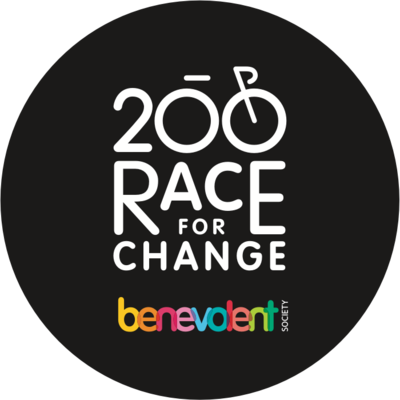 FAQ's
What is my minimum fundraising target?
By registering for Race for Change you agree to fundraise a minimum $5000 per team or $1000 per rider.
What is the difference between the registration fee and the fundraising target?
The registration fee is used by the organisers to offset the costs involved in running the event. The fundraising supports the community program such as Gold Coast Women's Centre, The Shack or CKANDO
Can we just do team fundraising rather than individual fundraising?
Yes. A team will need to reach a minimum $5000 in total to be eligible to participate this can be any combination of team and individual fundraising. All team members must be registered online at the event website to participate.
For our helpful fundraising tips please go to our Resources page or click here.
How does the money I fundraise get used?
The money raised at Race for Change supports local Benevolent Society services. For more detail, please go to the 'Your impact' section on the relevant event page for the programs being supported in Sydney.
What happens if I don't reach my minimum fundraising target?
The community program budgets have been set based on the Race for Change reaching its fundraising target. If we do not reach the target community services will need to be adjusted accordingly. The Benevolent Society reserves the right to cancel the registration of any participant or team if they do not show adequate progress towards exceeding their minimum fundraising target.
Are donations tax deductible?
All donations over $2.00 are tax deductible. When you complete the online donation process an official receipt will automatically be sent to your nominated email address.
Is there a minimum amount I can donate?
We recommend a minimum donation of $20 and we ask that you please consider the option to pay associated fees when prompted. Please note that our website only accepts whole dollar amounts.
How do I know if my donation is successful?
If you have provided a valid email address, you will receive an official receipt after you complete the online donation process.
Can I make an ongoing donation to the Benevolent Society?
If you'd like to make a recurring general donation to the Benevolent Society, please visit benevolent.org.au/donate or call our donations hotline 1800 819 633.
What is the history of the Benevolent Society?
We are Australia's first charity – We have been a catalyst for change for over 200 years. Our story is Australia's story.
Imagine, an Australia without free legal aid, where child labour is still widespread, where there is no old age pension and no specialist maternity care. You've just imagined an Australia without The Benevolent Society.
Our story is the story of the nurses, the social workers and the carers who supported people in times of need. It's the story of the thousands of people who donated time and money to help us help others and the advocates who fought for so many things we take for granted today.
Right from the start, we've been there for anyone who needs us, at the heart of change.
What does the Benevolent Society do?
We're a not-for-profit and non-religious organisation and we've helped people, families and communities achieve positive change since 1813. We provide programs to build strong family relationships - from playgroups and parenting education to family support, counselling and household budgeting.
We provide carers to help older people live at home confidently and safely – delivering to the carers' needs as well as those of the person they are caring for.
By helping to provide training, coaching, mentoring and consultancy services to practitioners and organisations we improve the wellbeing of children, young people, families and older Australians, especially in disadvantaged communities.
Why do you run fundraising events in Sydney and Gold Coast?
The Benevolent Society has delivered community services in Sydney since 1813 and in the Gold Coast/Brisbane area since 2007. The Sydney event was first organised as part of our 200 year anniversary in 2013 and has since been a key part of our fundraising activities in that area. In the Gold Coast we run a broad range of services from child care, learning services, women's centres and volunteering programs helping local people.
What time should I arrive on race day?
Check in is between 7-8am. You will also be required to have your bike safety check prior to registering for the race. Please ensure your bike and gear is in excellent working condition prior to race day to avoid being disappointed.
Is there parking at the event?
There are free parking facilities at both the Sydney and Gold Coast events.
What time does the race start?
Will there be mechanics to help set up my bike?
Yes bike mechanics will be available onsite and each bike must pass a roadworthy inspection prior to the start of the Race.
Race for Change is a team relay race over 200km with a cut-off time of 5hrs. It is a closed circuit race with only 1 member from each team on the track at any time with rider interchanges being made throughout the race. The first rider from each team is required to ride 10km before an interchange can be made. Thereafter, riders can interchange as often as they like however; each team member is required to ride a minimum of 30km.
Drafting is permitted. Please review Race Rules here.
Does every team have to have 5 riders to compete?
A maximum of 5 and minimum of 3 riders is required to compete on race day. All teams still need to ride 200km.
What do I do when not riding?
Each team will have a team area to relax in between relay legs. Bike racks will be available to store your bike when not in use. An MC will keep participants up to date with progress on the track, a large screen will display times and teams rankings, we will also have some funky tunes playing to keep things lively. Onsite catering for purchase is available if you need snacks and coffee.
What should I bring on the day?
The list below is a guide for items to bring on the day:
Bike in excellent working condition (Road bikes and hybrids only)
Helmet (Australian Standards approved)
Spare parts, repair kit, tubes and basic tools (especially if your bike is custom made or has non standard fittings)
Wet weather gear and a warm jacket
Towel & sunscreen
Water bottle – (water & Gatorade will be provided for refill)
Snacks
What support will I receive on the day?
The below are services provided on the day:
A mobile bike mechanic and van for minor works
A Race Director and marshals to maintain safety and track integrity
Event staff for general event day support
St Johns Ambulance
Water and Gatorade station
Massage therapists
Timing services
MC
How will I know how far we have cycled and our time?
Each rider will be tracked by a timing chip that will register times and laps. Team progress and rankings will be displayed on a large screen for all to see.
What catering is included on the day?
7-8.15am: Breakfast roll with tea or coffee
2:30pm: BBQ and refreshments will be served at the presentation ceremony
*Gluten free and vegetarian options will be available. Please indicate your requirements at time of registration.
Onsite catering for purchase is also available
What time does the race finish?
The race has a cut-off time of 5 hours and will finish at 2pm. A BBQ and presentation will follow with the conclusion of event day at 4pm.
What prizes are on offer?
The winning team will be the team to reach 200km in the shortest time and will receive the coveted Race for Change Yellow Jersey. Prizes will be given for fastest lap, highest fundraising and other notable efforts.
What is the event cancellation policy?
If the event is cancelled due to extreme weather or other unforeseen circumstance, a text message will be sent by 5am on race day to the mobile number provided at registration. Event cancellation is at the discretion of event organisers in conjunction with the Race Director. Participant safety is always our primary concern.