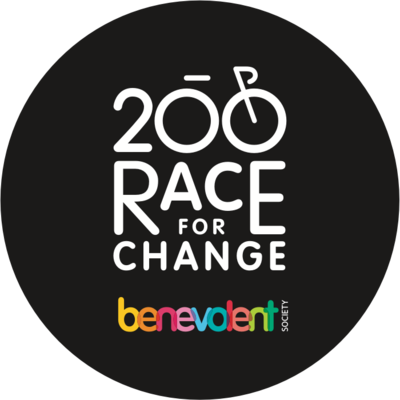 Terms & Conditions
Race for Change Terms and Conditions
All participants in The Benevolent Society "Race for Change" 2017 are required to read and sign the conditions of entry and mechanical support payment agreement below, agreeing to your understanding of the event conditions and individual responsibilities.
I agree to participate in the event on the following basis:
I confirm I have read these Conditions of Entry and the Race Rules which are available online. I agree to abide by them.
I agree to pay the registration entry fee of $750 per team.
I agree to make a commitment to fundraising for this event and meet the minimum fundraising target of $5000 per team
I acknowledge that competitive sporting events involve the real risk of serious injury (or even death) from various causes including overexertion, equipment failure, dehydration, accidents with other competitors, spectators or road users, course or weather conditions and other causes.
By participating in the event, I accept all risks necessarily flowing from my participation that could result in injury, loss of life or permanent injury AND I agree that I participate in the event solely at my own risk.
In consideration of and as a condition of acceptance of my entry in the event, I release The Benevolent Society and all parties associated directly or indirectly with the conduct of the event from all claims demands and proceedings arising out of my participation. I hereby indemnify them against all liability (including liability for their negligence and negligence of others) for all injury, loss or damage arising out of or connected with my participation in the event. This release and indemnity shall extend to and include The Benevolent Society, event director, event sponsors, and their respective partners, employees and volunteers including medical personnel. This release and indemnity continues forever and binds my heirs, executors, personal representatives and assigns.
I confirm I am in a physically fit state to complete the event safely and I have sufficiently trained for the event.
I acknowledge that if I am aware of an existing medical condition and uncertain of my state of fitness then a medical practitioner should verify my physical condition. If requested, I agree to provide the event organiser with a signed medical practitioner's certificate attesting to my physical fitness to participate in the event.
I have provided or attached to my entry form details of any medical or physical conditions from which I suffer that might affect my performance or be relevant if medical treatment is needed. I accept the risk of participating despite these conditions.
I consent to receiving any medical treatment including ambulance transportation that the event organisers think desirable or advisable in the event of injury, accident and/or illness during or after the event.
I understand that compulsory insurance cover for participants in the event may not cover all injury, loss or damage sustained by me.
I agree to abide by all decisions, directions and rules issued by the race organiser or event organiser, including race results. The event organiser may change the event format, course or other race conditions at their discretion (including the event date and venue). If that occurs, this agreement applies to the changed conditions. I acknowledge that all riders must adhere to the race rules as advised or face the possibility of being disqualified from the event.
Safety precautions undertaken by the race organiser or event organiser (such as course supervision, race safety briefings, bicycle and helmet safety checks) are a service to me and other participants but are not a guarantee of safety.
I acknowledge that the race organiser will review the weather conditions prior to the event and may need to adjust, reduce or move the date for the event for safety reasons if the weather proves to be a risk to my health and the completion of the course. I agree to abide to whatever decision is made by the event organiser should unforeseen weather conditions place the event and my health at risk.
If the event is cancelled or if I do not participate in the event for any reason, my entry fee and any fundraising amounts shall be non-refundable.
I agree to present my bike before the event (at the times to be advised) to allow it to be inspected and will abide by the decision of the organisers as to ride worthiness or suitability for the event. Notwithstanding such an inspection, I acknowledge that I remain at all times responsible for ensuring that my bike is ride worthy, has been properly maintained and serviced and is in a suitable condition to be able to undertake the event safely.
I agree I am responsible for the security of my personal possessions and equipment during the event. The event organisers will not be liable for the replacement of any personal possessions.
I consent to photographs and electronic images being taken of me before, during or after the event by an official representative of the event organiser. I acknowledge and agree that such photographs and electronic images are owned by the event organiser and that they may be used for promotional use. These images, my name and my event results may be used for reporting purposes or other purposes at any time without my further consent being necessary. The event organiser is not responsible for photographs and electronic images taken by persons who are not an official representative of the event organiser.
I have supplied an emergency contact name and number and this person is contactable both during and after the event and is not another participant.
I agree that an online fundraising page will be created on my behalf and I agree to the Everyday Hero Terms and Conditions
MECHANICAL SUPPORT. The event is a semi supported event and participants will receive mechanical assistance throughout the event if required. Assistance will be provided free of charge but products/equipment will be supplied on a "user pay" basis. I agree to pay for any equipment I request.
The Sydney race will be held at the Sydney International Regatta Centre in Penrith on Friday, 26 May 2017.
The race will commence at 9:00am and all riders are required to arrive at 7:00am and register no later than 8:00am. Race briefing to be held at 8:45am.
Teams must comprise 5 riders. The Race Director may permit a team to participate with 4 riders in certain circumstances; however, this decision will be at the sole discretion of the Race Director.
The race will run in an clockwise direction.
Overtaking is to be done on the left hand side of the rider being overtaken
Slow riders are to keep to the right hand side of the track
Each individual rider must complete a minimum of 30 km (6 laps) over the day. Only one rider per team is allowed on the course at any one time (except for the last 30min see point 19). The first rider in each team must ride a minimum of 2 laps prior to the first relay interchange.
After this you can change as frequently or infrequently as your team wishes. If you are not changing riders you can ride past pit lane and behind the grand stand to do another lap.
Standard road race rules apply (drafting is allowed)
All participants must ride on road bikes; no hybrids or mountain bikes allowed and no tri bars.
All riders must wear helmets inline with Australian Standards
All riders must wear a timing chip supplied on race day and follow the agreed course at all times.
Riders are not allowed to wear / use MP3 players/iPods or mobile phones while riding.
Marshals may remove riders from the course for dangerous riding, mechanical issues or for medical examination if deemed necessary and their decision is final.
It is desired but not mandatory, for riders to have third party insurance.
A strict no alcohol policy applies to all participants during the race and race cut off times must be adhered to.
Riders must be aged over 18 years.
I agree to read and sign a waiver as acceptance of the race terms and conditions. I also acknowledge that I must sign this waiver in order to participate in the event.
After the first team has completed their final lap, you can send out a second rider for the last 30min to complete your remaining kilometers. These riders can swap at the interchange at any time.
Once the 30mins has expired you can complete the lap you have already started. This will still count towards your total distance.
At the end of the 30mins you will be directed to pit lane to finish the race.